You are here:
Home > Opinion > Columnists
A New Year – time to be positive and recommit to making life better
By Eugene Clark

0 Comment(s)Print E-mail China.org.cn, January 8, 2016
Adjust font size: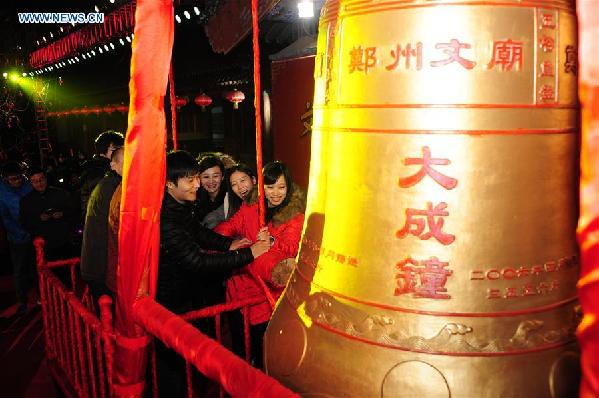 People strike a huge bell to greet the New Year of 2016 at the Confucius Temple in Zhengzhou, capital of central China's Henan Province, Jan. 1, 2016. (Xinhua/Feng Dapeng)
Happy New Year to all China.org.cn readers! I am confident we will find that 2016, like all years before it, will contain elements Dickens described in his Tale of Two Cities, that will reflect the best of times and the worst of times. Unfortunately, with a global media that tends to focus on the bad news, many people approach life today with a sense of fear and anxiety. For some, the start of a new year is the time to recommit and like Hamlet "take up arms against a sea of troubles and by opposing, end them."
I often ask my Chinese friends and colleagues what they consider to be the three major challenges facing China in the future. Always high on the list are pollution, growing inequality and the ageing of the population. While these are indeed serious issues, when one looks both at the 5,000-year history of China, the world's longest continuing culture, the odds would certainly favor the optimist. The case for optimism has become even stronger when one looks back to see what China has achieved over the last two decades.
The trouble with fear is that it prevents learning. It leaves us less open to find new and creative ways forward. At its worst, it can spread panic and produce a tsunami of negative emotion that destroys all in front of it.
Fear also paralyzes us. It stops us from trying new things, from finding new solutions to tackle both existing problems and the new ones to come. This is why, for example, in the middle of the Great Depression, US President Franklin Roosevelt, argued effectively that "the only thing we have to fear is fear itself."
Yet, most of the things we fear never happen. Moreover, it is during times of adversity that we also achieve our greatest growth. Rather than be discouraged by today's problems, the reality is that there was never a more exciting time to be alive.The key is to make a start, to stare our fears, our challenges, and our difficulties in the face and take some small action today, right now, to confront them. That is the power of New Year's resolutions. However, we shouldn't wait for the New Year to do this. Every new day, every moment is charged with possibilities.
Follow China.org.cn on Twitter and Facebook to join the conversation.
Send your storiesGet more from China.org.cn

Mobile

RSS

Newsletter
A New Year – time to be positive and recommit to making life better
An optimistic approach to life's challenges, especially in the New Year, is the best way forward for both China and the world.
China.org.cn

China.org.cn

<!-comments-button-->